This Cranberry Relish Recipe is a classic holiday side dish you'll be making year after year! It features tart cranberries simmered with maple sugar, cinnamon, ginger, golden raisins, and orange zest to create a sweet, tangy, and delicious sauce.
Easy Cranberry Orange Relish
Thanksgiving is on my mind! And so, of course, is the Thanksgiving menu.
I can't wait for all of those classic homemade foods…and you can bet that this Cranberry Relish Recipe will be a hit. II love my Crockpot Cranberry Sauce but this version is super quick and easy to make, features just a few simple ingredients, and the flavor is amazing!
Everyone at your holiday party will be asking for the recipe. You'll never go back to store-bought cranberry sauce again!
What's the Difference Between Cranberry Sauce and Cranberry Relish?
The real difference is that cranberry sauce is cooked while cranberry relish is made with raw ingredients. I consider this recipe more of a relish just because it has more texture than a traditional, smooth cranberry sauce.
I guess, technically, since this is cooked, it would be considered more of a sauce. Call it what you want…it's delicious either way!
What is Cranberry Relish Made Of?
Water and Maple Sugar: We're dissolving maple sugar in water to start the sauce and add just the right amount of sweetness. Note: you can use coconut sugar!
Grated Ginger: Freshly grated ginger adds a zesty layer of flavor to the sauce.
Cranberries: You'll need 1 cup of fresh cranberries. Look for cranberries that are a vibrant red color and are firm to the touch with only a slight give.
Cinnamon: I like to stick with ground cinnamon, but feel free to add other sweet spices such as nutmeg or cloves if you like a little bit of extra sweet spiciness.
Golden Raisins: Golden raisins soak up the flavors and sweetness of the sauce and provide a delicious pop of texture.
Orange Zest: A sprinkle of orange zest rounds out all of the cranberry sauce flavors perfectly.
How to Make Cranberry Relish
This cranberry relish recipe takes next to no time to put together! It might be a little bit more effort than opening up a can, but it's so worth it.
Make the simple syrup: In a small pot, combine maple sugar and water. Bring to a boil over high heat until the sugar is dissolved.
Add the other ingredients: Add in the grated ginger, fresh cranberries, cinnamon, and raisins, then cook at a boil until all of the water has evaporated. Once the sauce is cooked and thickened, top with orange zest and serve.
Is Cranberry Relish Served Hot or Cold?
This cranberry relish can be served warm and fresh out of the pan, or it can be cooled to room temperature (or even chilled in the fridge) before serving. The flavor is delicious no matter which way you choose to serve it!
Tips and Notes
Stir occasionally. As the cranberry sauce boils, make sure that you're checking and stirring it every so often to make sure that it doesn't burn or stick to the bottom of the pan.
Play with flavor. If you prefer a more tart sauce, then add less sugar. If you like it a little bit sweeter, add a little more sugar or even a splash of maple syrup. This is homemade, so make it your own!
Play with texture. Feel free to add other mix-ins such as diced apples, chopped walnuts or pecans, or even diced jalapeños for a sweet and spicy cranberry sauce!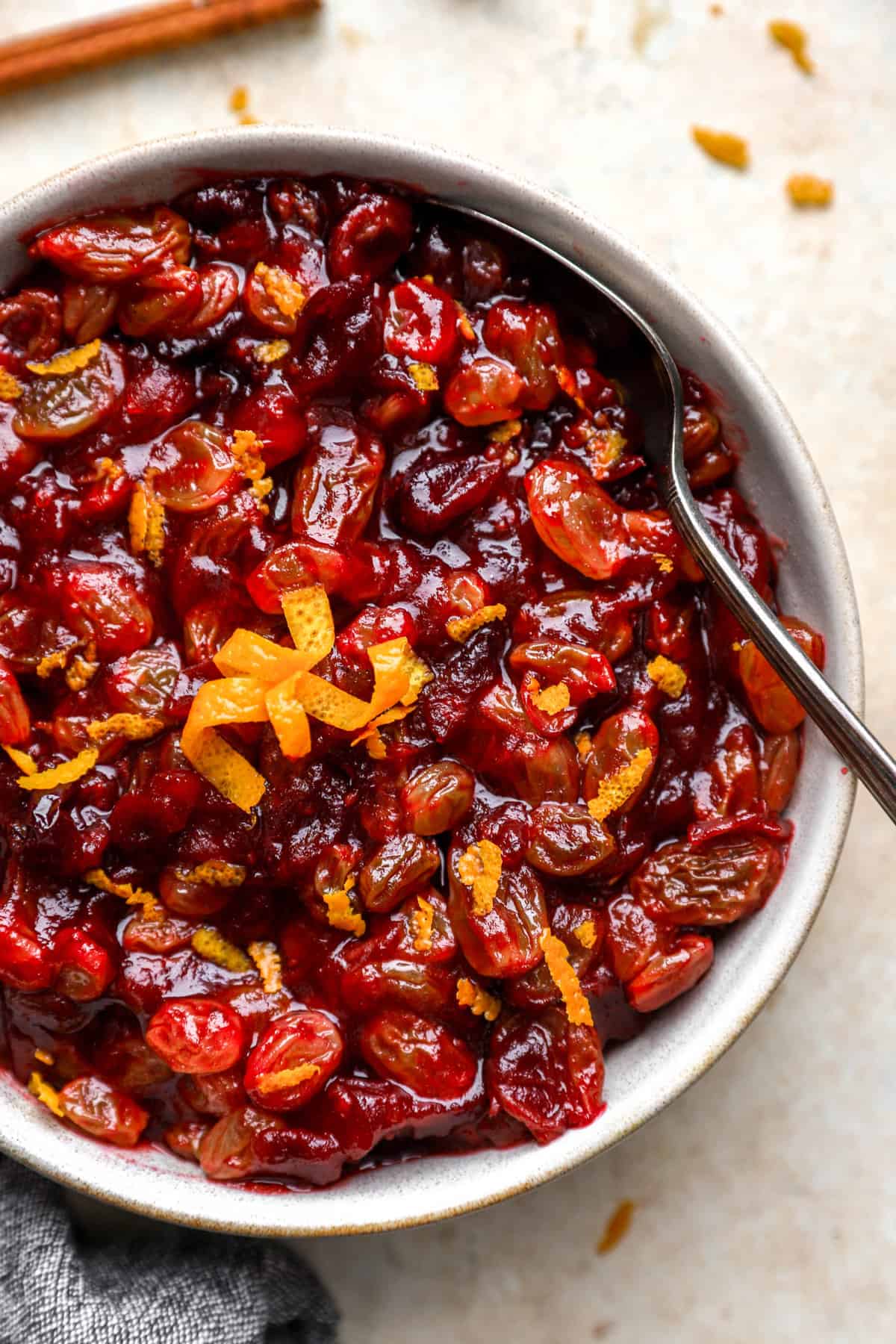 Serving Suggestions
This cranberry relish is a holiday classic, so I love to serve it with a classic turkey dinner and all the best holiday side dishes!
Here are some of my favorite pairings:
Got Leftovers?
Layer your leftover cranberry relish on biscuits, serve it over pumpkin waffles, enjoy it as a dip with goat cheese and crackers, or dollop it on a slice of cheesecake or pound cake!
How to Store
Store leftover homemade cranberry orange relish in an airtight container in the fridge for up to 10 days. You can enjoy leftovers straight from the fridge, bring them to room temperature, or warm them slightly first.
It can also be frozen for longer storage! Simply cool it completely, then store it in a freezer-safe container for up to 2 months. When you're ready to serve it again, let it thaw overnight in the fridge first, then dig in.
More Thanksgiving Sides
Pin this recipe to save it for later!
1

cup

water

1/2

cup

maple sugar or coconut sugar

1/2

teaspoon

grated ginger

1

cup

fresh cranberries

3/4

teaspoon

cinnamon

1

cup

golden raisins

1

teaspoon

orange zest

or more as desired, for garnish
Add maple sugar and water in a small pot, bring to a boil over high heat until the sugar is dissolved.

Add in everything else except for orange zest and let boil for 20 minutes, or until all of the water has evaporated (stir occasionally so that the mixture does not burn on the bottom and sides of the pot).

Top with orange zest and enjoy!
Storing: Cranberry sauce will last between 7-10 days in the refrigerator.
Serving: 8gCalories: 151kcalCarbohydrates: 37.8gProtein: 0.4gFat: 0.2gSodium: 28mgFiber: 3.7gSugar: 29.2g