Seven weeks left, and what's coalescing at the bottom of the standings may be as interesting as what's going on at the top of the standings …
That starts with the collapse of the Patriots in Frankfurt—and what it'll mean between now and Jan. 7. New England didn't just lose to the Colts. They lost a game owner Robert Kraft called "critical" at a fan rally on Saturday, and "big" to others at events through the weekend, mostly because of his own efforts to cultivate a fan base in Germany. They lost with their first-round quarterback benched, after throwing as bad a pick as you'll ever see to precipitate the move. They lost while looking like the kind of team they used to make fun of.
One thing I've learned covering the league as long as I have is that billionaires don't like being embarrassed. And that was another embarrassing three hours for Kraft, who got awfully comfortable being in prime broadcast windows with the A crews calling his team's games, and more recently has gotten a good long look at how the other half lives.
Again, that it was in Germany made it worse. That it was a standalone game made it worse.
So now what?
Well, it's fair to say that if you divorce Bill Belichick's last four years from the previous 20, there's a good chance he'd land back in the states in the wee hours of Monday morning without a job. But that's the whole thing. As rudderless as the franchise looks now—after losing campaigns in 2020 and '22, a '21 season that ended with a 30-point loss in the wild-card round, and the bottom dropping out this year—you can't simply erase Belichick's historic two-decade run of dominance when considering, and serving, the here and now.
That leaves Kraft in a tricky spot. I believe he wants to respect the wild success Belichick brought his franchise. I also think, with his Hall of Fame case being considered, he's sensitive to being seen as the guy who let both Belichick and Tom Brady go. So my guess would be he'd seek an elegant sort of escape hatch from the Belichick Era.
To me, at least, that means you're not letting the guy go in-season. And a small group of team president-types I polled on Sunday night said if they were Kraft, they wouldn't either.
"What would be the goal of that?" asked one. "Are you making playoffs? Do you want to jumpstart the team and get a lower pick? He has earned the right to finish the year. … The Patriots are a great franchise. Great owners. Do the classy thing and let him have a proper sendoff. Maybe you announce in December he won't return and honor him in the final home game. But firing him now would just be ego."
"It depends on so many factors but I would have to know what the locker room thought," said another. "I'm also not sure what they get out of it. Pretty hard to dismiss him during the year given his career record. I would imagine they let him finish it out."
A third actually said he'd consider firing Belichick now, and "And I think [Kraft] wants to but I'm not sure he will. I think he'll take the GM job away and hire a GM, hoping that'll make Bill quit."
That was actually the scenario I figured might play out in 2024, when the Patriots first started to flat-line. I thought Kraft could bring in a member of Belichick's scouting family, like ex-Falcons GM Thomas Dimitroff, ex-Titans GM Jon Robinson or Niners exec Adam Peters, to pair with Jerod Mayo long-term, then tell Belichick it was up to him whether he wanted to stay in a new setup with Mayo waiting in the wings.
But things have steadily gotten worse since. There were no-show blowout losses to the Cowboys and Saints. There was a loss to two-time, longtime Patriot assistant Josh McDaniels, just a few weeks before McDaniels's own in-season firing. There was last week's defeat at the hands of a retooling Washington franchise that sold off both its defensive ends days before. And then there was Sunday.
That leaves Kraft in a spot where it sure feels like the curtain is dropping, and what's left is just how to handle Belichick's exit or a serious restructure of the team's football ops.
So, this being the bye week, if I'm Kraft, I'd go to Belichick, and ask a simple, direct question—How do you want to handle this? It's possible, deep down, the coach wants the chance to say goodbye to the fan base, something that an announcement before the end of the season would facilitate. It's also possible Belichick would just force Kraft to fire him, so he could take his money and go elsewhere. Or maybe the solution is somewhere in between.
Either way, if this is over, and I think it probably is, Belichick deserves a say in how his exit for the organization he transformed is handled. I think Kraft will give it to him.
How Belichick handles it from there is anyone's guess.
My guess? Whatever it is, it includes him finishing the season out.
---
While we're there, it's worth mentioning that the race for the draft quarterbacks is starting to heat up. USC's Caleb Williams's junior year—which (officially now) will end without a conference or national title—demands more inspection. His counterpart at North Carolina, Drake Maye, has been steady in the No. 2 spot. And guys like Washington's Michael Penix Jr., Oregon's Bo Nix, Michigan's J.J. McCarthy, LSU's Jayden Daniels, Texas's Quinn Ewers, Duke's Riley Leonard and Colorado's Shedeur Sanders have all been raised by scouts to me.
Given that, and regardless of how the next six months shake out, it seems to be a really good bet that 2024 will be a good year to need a good young quarterback, with true top-end prospects available, and depth there in the class.
Then, just take a look at the draft order, as it stands this morning.
1) Bears (from Panthers)
2) Giants
3) Cardinals
4) Patriots
5) Bears
6) Packers
7) Rams
8) Titans
9) Broncos
10) Falcons
There's a decent chance every one of those teams goes into the offseason looking at taking a quarterback high in the draft. Of course, based on history and common sense, it's pretty unlikely more than three or four of those teams actually pull the trigger on one that high. But the presence of so many teams looking for one, and a bunch of qualified prospects being out there, should make the spring really, really fun to follow in the NFL.
And maybe even moreso if there's drama over whether or not Williams is happy with whomever lands the first overall pick.
---
As we ease back into the actual Week 9 action, how the other team over in Germany (Indianapolis) played shouldn't be ignored. Shane Steichen's dealt with a lot already as a head coach. The quarterback he took fourth overall, Anthony Richardson, showed plenty of promise, but came out of each his first four NFL starts due to injury, and was lost for the season in the last of those. He had to navigate a particularly edgy contract squabble between his boss (Jim Irsay) and best player (Jonathan Taylor).
And all the while, the job never seemed too big for Steichen, who now has the Colts at 5–5 going into the bye after they held the Patriots out of the end zone, forced picks on New England's last two possessions and did just enough on offense to score the 10–6 win.
"You always look back when the season's done," Steichen said over the phone, from the bowels of Deutsche Bank Park. "Obviously, yeah, there are games where you could've won and could've been 6–4 or maybe even 7–3 at this point. And there's also some games where, Shoot, the ball kind of went the other way and it could have been flipped the other way. But we're just finding ways to win, however it is—offense, defense, special teams and just showing grit and toughness and being resilient when you need to make a play.
"Defense stepped up today, made some big time plays. And when we needed to play on the offensive side like you said, Gardner [Minshew] made a big play to [Josh] Downs. And it was good. It's been great. This team's hungry."
Sunday wasn't a day when Indy could point to one player or the other as the future—the Colts rushed for 70 yards, Minshew had a sub-70 passer rating, and even the picks—the first from Julian Blackmon, the second from Rodney Thomas—were more Johnny-on-the-spot than Johnny-did-something-spectacular.
Still, to Steichen, that the guys scratched their way through to such plays at the end counted for a lot. Blackmon's pick came because he had the presence of mind to fall off Mike Gesicki in coverage. Minshew's third-down throw to Downs with 2:52 left on third-and-5—an off-balance scramble dime—was as good as the spectacular catch the rookie made on the other end of it, and flipped the field so the Colts could pin the Patriots inside their own 20 with less than two minutes left. And Thomas's aggression to the ball from Zappe ended the game.
All of that, as the coach saw it, was good proof-of-concept for players who, en masse, have bought into Steichen's staff, and especially so during this particular trip—the Colts red-eyed on Thursday night, then gave the players late curfew and told them to stay up late on Friday night, to try and reset their clocks have them feeling like it was afternoon (which it was in Germany) for kickoff on Sunday. The proof on how it worked was out there Sunday.
"It was the energy and the effort and not giving them touchdowns when they get in the red zone," Steichen continued. "To hold them to six points, I think they were 0-for-4 when they got in [the red zone]. Our defense just played solid the entire game. And then offensively, we were moving the ball. We just weren't able to convert some things there. You always go back and evaluate it, look at the tape and see where you can improve from. But obviously the big thing is getting the victory and that's what we got done today."
And it's what they've gotten done through 10 games, going into the bye, too. Which has been a lot, especially considering the circumstances.
---
C.J. Stroud looks awfully special, but he's just one of a bunch of reasons that people in Houston should be excited about their football team. And a lot of those were on display, as the Texans built an early 20–7 lead in Cincinnati, then a late 27-17 lead, then blew those leads before rallying behind Stroud to a 30–27 win on a walk-off field goal that got Houston to 5–4.
Already, DeMeco Ryans has more wins than predecessors David Culley and Lovie Smith had in their single seasons running the Texans—and there's more reason for optimism in Houston than there's been since Deshaun Watson's early days as the young franchise's quarterback.
We'll have more on all this on the site on Monday.
But for now, we can give some credit to the guy this probably means most to, even if he knows his Texans still have a ways to go. Ryans was drafted by the team in 2006, won Defensive Rookie of the Year honors in Houston, and made two Pro Bowls and was a perennial defensive captain over his six years as a Texan. So in the same way winning a game like Sunday's can energize a city, Ryans himself feels the effect all this is having in Houston.
"It's why I wanted to come back here," Ryans told me, over the phone from Paycor Stadium. "It means more being here and being able to do it in Houston. I know our fan base deserves it. They're fired up about it. We feel their energy and their support. We're excited. We just try to get better each week and play good ball."
And they played really good ball on Sunday.
A defensive front anchored by Sheldon Rankins, Jonathan Greenard and, of course, third-overall-pick Will Anderson Jr. was all over Joe Burrow, eventually helping to spring safety DeAndre Houston-Carson and corner Shaquill Griffin for picks on the Bengals' first two possessions of the fourth quarter.
Young guys like Tank Dell and John Metchie III continued to contribute on offense, while veteran pickups Noah Brown and Dalton Schultz bucked up when it mattered most—those two hauled in darts from Stroud for 22 and 25 yards, respectively, to get the Texans in position to kick the game-winning field goal.
Then, there's the guy who kicked that game-winner, Matt Ammendola, who was signed on Tuesday.
And, of course, then there's Stroud, who threw for 356 yards and a touchdown, and outdueled fellow former Ohio State quarterback Joe Burrow—a guy he's openly said he models his game after. Stroud, indeed, looked Burrow-esque in coolly moving the Texans 55 yards in six plays, and completing his last four throws of the game for 51 yards, to position Ammendola for the 38-yard game-winner. All of which was, pretty much, exactly what Ryans expected from his rookie quarterback after what he saw a week ago against the Buccaneers.
"I'm thinking we've been here before," Ryans said, when I asked where his head was at when Stroud took the field at his own 25 with 1:33 left. "We were here last week with less time and no timeouts. I had confidence that they would get it done."
They (Stroud included) did, of course. A lot of folks in Houston have been confident of late.
And that's a new thing in Houston.
A pretty exciting one, too.
---
The 49ers are still awesome. It's important to remember this about Sunday's game in Jacksonville: The Jaguars came into it winners of five straight, with a chance to assert themselves as a force by beating a Niners team traveling cross-country for an early kickoff.
The other thing to remember? The Niners were still a lot better than them. And in the end, they may end up being better than everyone else, too.
The 34–3 deconstruction of the Jaguars was illustrated best by the fact that San Francisco nearly doubled up its host in yards from scrimmage (437–221) and first downs (20–12), and won the turnover battle 4–0. The 49ers had a defensive touchdown called back. Brock Purdy put up a 148.9 passer rating. San Francisco rushed for 144 yards and Jacksonville had just 59. Trevor Lawrence was sacked five times.
It was, in about every way, a beatdown. And most poignantly, it was the type of thrashing the Niners needed to administer after three straight losses sent the team into its bye at 5–3.
"If you look at the last couple of seasons, we sort of went through a stretch of losing a couple of games and then sort of having to realize, We've got to pick this up, gotta have that chip on our shoulder and be hungry again," Purdy said over the phone about an hour after the game. "And then going on to finish out the season strong. Lost three in a row going into the bye. For all of us, man, it's been a sucky feeling for all of us, bad taste in our mouth. For the bye week, get away a little bit but also come back with a chip on our shoulder again, trying to play 49er football that we all know here.
"That was really my take going into this game."
Fair to say all the way around, they played 49er football. Nick Bosa wreaked havoc, combining with new/old friend Chase Young for a sack, then forcing an errant Lawrence throw later in the game, one that was picked by Talanoa Hufanga. Fred Warner had an interception too, one that punctuated an All-Pro kind of day from he and Dre Greenlaw at linebacker. Deebo Samuel was back, with 59 yards on seven offensive touches, as was Trent Williams, and those two being available made all the difference.
It was a good enough performance all the way around to where we're gonna let it breathe a little by featuring Purdy and the Niners as the MMQB Lead for this wee.
But for now, yeah, the 49ers look like they did in September, when a lot of folks felt like they were the best team in football. Personally? I think they still are.
---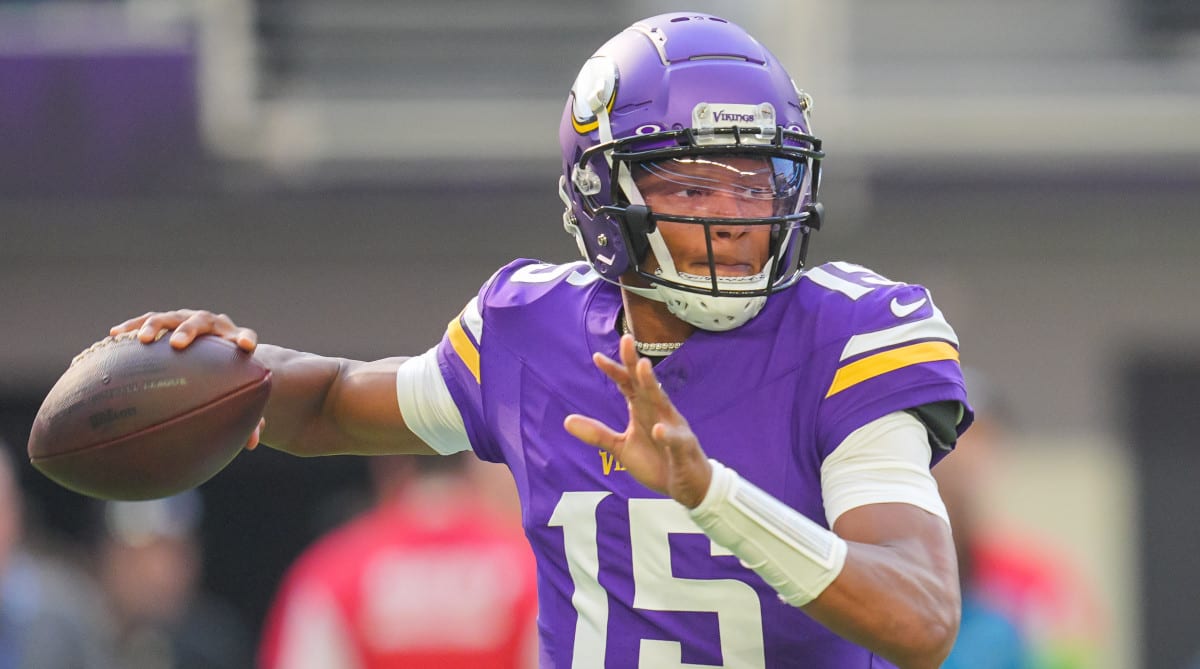 The Vikings are quickly becoming the NFL's best story. And Kevin O'Connell may be the league's Coach of the Year.
The case is simple—this was the Vikings' retool year, they took on over $30 million in dead money, jettisoned a bunch of respected vets (Eric Kendricks, Adam Thielen, Dalvin Cook, Patrick Peterson), endured major injures to Kirk Cousins and Justin Jefferson … and somehow have won five straight to get to 6–4. They're just a game-and-a-half behind the Lions in the NFC North and would be the No. 7 seed in the NFC if the playoffs began today.
And even wilder is that they're now doing it with a quarterback who's still learning the codes to get in the building.
That quarterback, as all of you probably know, is Joshua Dobbs, who was a Brown over the summer, a Cardinal around Labor Day, and most recently jumped on a moving train in Minnesota via trade—arriving days before last week's game against the Falcons before coming off the bench to lead the team to a win without having so much as taken a snap from center in practice.
Dobbs told me after Sunday's win over the Saints that he was much more prepared this time around—he had 268 yards, a touchdown pass and a 101.1 rating on 23-of-34 passing, plus 44 yards and another touchdown on eight carries in the 27–19 win over the Saints—and that's to be expected. To me, what was more interesting is how and why he was more prepared, which says all you need to know about the program O'Connell and GM Kwesi Adofo-Mensah have built.
"It's been awesome," Dobbs told me. "They have [O'Connell] in my ear on game day. But I think just with the team, around the QB position, it has been tremendous. The room—between Sean Mannion, Nick Mullens, Kirk [Cousins], Jaren [Hall], just being able to have a great vibe in that room and be able to ask them questions, has been awesome. And then with Grant [Udinski] and Chris [O'Hara] as the QB coaches in the room, last week, they spent extra time with me, specifically Grant. I went through the entire game plan Friday before the game, [for] three hours, when I wasn't even expected to play.
"I couldn't have asked for a better support group to help me make this transition, just obviously personally, emotionally—but also as a football player. It's been awesome. I couldn't have pictured it any better, man, and [I'm] just excited to be part of this team right now."
This, by the way, is a guy who's been to a bunch of different places, so his words should carry weight. There's also a reason why none of those vets who departed in the offseason have much bad to say about the place they left, which, in the NFL, is pretty rare.
So, yeah, I'm not sure how far the Vikings can take things in this retooling year of theirs.
But in the long run, I'd wager pretty heavily that O'Connell's taking them places.
(We'll have more on Dobbs on the site later Monday.)
---
The Lions' imperfect win on Sunday was golden—in what it proved about Detroit. First and foremost, it showed the continued resiliency that Dan Campbell's crew has proven itself to have. After an all-systems collapse against a really good Ravens team three weeks ago, Detroit has come back with consecutive wins over AFC West foes, the first being the Josh-McDaniels-final-straw game against the Raiders, the second coming in Sunday's shootout with the Chargers.
Second, it showed these Lions are very capable of winning different kinds of games in different kinds of ways.
More than last year, this year's Detroit group, buoyed with bullying lines, has seemed most comfortable in street fight types of games. Against the Chiefs, Packers, Panthers and Raiders, the Lions choked the life out of the opponent at the end of the game—riding a rugged run game and a versatile, attacking defense to wins.
The Charger game, which doubled as Jared Goff's homecoming to SoFi Stadium (though he only played one year there as a Ram, and it was the year without fans), revealed a version of the Lions that looked a little more like the early 2022 team that had to outscore everyone as the defense got its footing.
"One of those things we haven't done a lot of is win the close shootouts," Dan Campbell told reporters after the game. "Every time you win and get it done you learn something from it. The offense really showed up today big time."
In a game that could've doubled as a head-coach dress rehearsal for Lions OC Ben Johnson, Detroit, led by Johnson and Goff, had answers for just about everything.
• When the Chargers rallied from a 24–10 deficit to tie it in the third quarter, the Lions went on a seven-play, 75-yard drive, with Goff going 3-of-4 for 60 yards and the touchdown to make it 31–24.
• When the Chargers tied it at 31, the Lions ripped off another seven-play, 75-yard drive, and this time Goff completed all four of his throws for 64 yards, the last one a beautiful 25-yard scoring throw to Brock Wright off a hard play-action fake that seemed to pull in the entire defense.
• After Justin Herbert brought L.A. back one last time to knot the game up at 38, the Chargers covered 53 yards on nine plays, with Goff connecting on all four of his throws for 56 yards, to set up Riley Patterson's game-winning field goal as the clock expired.
So why does winning this way matter? In the playoffs, you're going to have to play different types of games against teams you may not know as well. Which is why the team that can beat you in different ways is usually the most dangerous.
And increasingly, that's what Detroit has become.
---
I love the idea that we could see Aaron Rodgers in a little over a month, which the Jets quarterback intimated is something that's now in play. There have been rumblings he could be back for a few weeks of the regular season for a little while now, and it's great to hear that confirmed, simply because that means he's doing really well.
The bigger question is whether or not he'll have something to come back to.
On Sunday night, the Jets offense, once again, failed its defense. The Jets have held opponents to 18 points per game over the last seven weeks, and are 3–4 over that stretch because of an offense that's beat to a pulp up front, and isn't getting enough out of Zach Wilson. And because that's left the margin for error so thin, a game like the one Sunday night in Vegas, against a Raiders team with an interim coach, is one you have to have.
Instead, Wilson was picked off by Raiders linebacker Robert Spillane with 1:22 left and, then, the offense couldn't do much when the defense got New York the ball back with 53 seconds left. And now, this is what Robert Saleh's crew is faced with: The Dolphins twice, a trip to Buffalo, and home games against the Falcons and the suddenly-hot Texans over the next five weeks. That stretch brings the Jets right to Christmas week.
Can they do enough, now at 4–5, to stay in the race and make it worth Rodgers's while to come back? After Sunday, the road there is uphill, for sure.
---
The Browns have my attention. We knew the defense was good, and they were again Sunday, with Myles Garrett getting another sack-and-a-half, Lamar Jackson getting picked off twice, and the vaunted Ravens run game held to 106 yards on the ground. What we didn't know was how much tougher this team has gotten on the whole.
Cleveland was down 14–0 almost instantly (after a pick-six and a long touchdown run), and down 14–0 in Baltimore. For most teams, that'd be curtains, especially with the problem exacerbated by ugly quarterback play—Deshaun Watson was 6-of-20 for 79 yards and the aforementioned pick in the first half—and especially with the second half starting with the Ravens marching it right down the field to seize a 24–9 lead.
A funny thing happened from there.
"We didn't back down," Watson said at his postgame press conference.
And above anyone else, Watson didn't back down.
The embattled quarterback walked off the field in the final seconds of the first half to get an ankle injury treated. He came out of the locker room, somehow, a better player.
In the second half, Watson was 14-of-14 for 134 yards and a touchdown. The Browns came back from a two-touchdown, fourth-quarter deficit for the first time in nine years, in part on Watson's back (he led a 75-yard touchdown drive, then a deliberate march of 58 yards over 12 plays for Dustin Hopkins's game-winning field goal), and in part, again, on the strength of the defense, with Greg Newsome registering a pick-six between the two scoring drives.
And what's interesting now is where the Browns take this next. They might have the NFL's best defense. They can run the ball, even without Nick Chubb in there.
If Watson really is getting back to who he was four or five years ago? Look out.
---
It's late again, and time to wrap up, so here are your quick-hitters for Week 10. And we'll try and give you a little bit of everything here …
• Good start for Kyler Murray. We saw a little magic from him on Arizona's game-winning drive, with a scintillating 13-yard scramble (where he reversed field on the Falcons), then a bomb that promising young tight end Trey McBride came back to for 33 yards, to set up the kick to beat Atlanta. Even more interesting, to me at least, is how he's got the power now to get Arizona out of the upper reaches of the draft, which would make his spot for 2024 a little more secure.
• I don't know which version of the Bills to expect tonight.
• Shout out to my editor John Pluym for passing this note along—Vikings DE Danielle Hunter earned a $1 million bonus for hitting 11 sacks for the season on Sunday. If he gets another sack-and-a-half by the end of the year, he gets another million. And if he reaches 14 sacks for the year, it'd add another million to that total, taking his sack bonuses up to $3 million for the year.
• The craziest fact of the season to this point, at least to me, is that the Steelers have been outgained in all nine of their games, yet they're 6–3. Mike Tomlin, once again, is doing something right. And because of it, Pittsburgh is right in the mix in the AFC North gauntlet.
• Burrow, by the way, more or less won that game against the Texans, with a bullet that hit Tyler Boyd in the hands in the end zone on third-and-goal from the 13-yard line with 1:37 left. Boyd dropped the ball, the Bengals settled for a game-tying field goal and, well, Stroud took it from there. As tight as the AFC North is, that one could wind up having pretty major implications (and, yes, I know Stroud, in that circumstance, might've gotten Houston in the end zone anyway).
• Cowboys 89, Giants 17 for the 2023 season isn't a good look for Brian Daboll's crew. But they're beat up, and there very well could be a pot of gold at the end of this particular rainbow. Weirdly, Tommy DeVito might wind up helping them get there.
• CeeDee Lamb is becoming the player it's always been clear he can be. And it's a reason why Dak Prescott has caught fire—the 30-year-old has posted a triple-digit passer rating four weeks in a row, and five times over the last six weeks.
• Baker Mayfield's performance last week against the Texans was overshadowed, justifiably, by Stroud, but he played really well in that game, and he was good again as the Bucs pulled to within a half-game of first in the mediocre (to say the least) NFC South. He's made some money for himself this year, and would seem to be an ideal bridge quarterback for somebody (maybe even the team he's playing for now) in 2024.
• Will Levis was less impressive. Teams are starting to build a book on him, so it'll be interesting to follow his next steps, especially with Tennessee rising in the draft order.
• Sam Howell and Geno Smith can both play, and that Seahawks–Commanders game was a barnburner—shame more of the country didn't get to see it. Those two combined for nearly 700 yards passing, and both made big-time throws at the wire (Howell's a 35-yard dime to his college teammate Dyami Brown for a game-tying touchdown, Smith's a 27-yarder over the middle to D.K. Metcalf to put Seattle in position to win it with a kick.)