Nothing says fall like cinnamon-spiced apples, which is why these velvety apple cheesecake bars with a pecan crust are so dreamy. They're a bite-sized spin on cheesecake but with an irresistibly crisp apple-maple topping you'll love.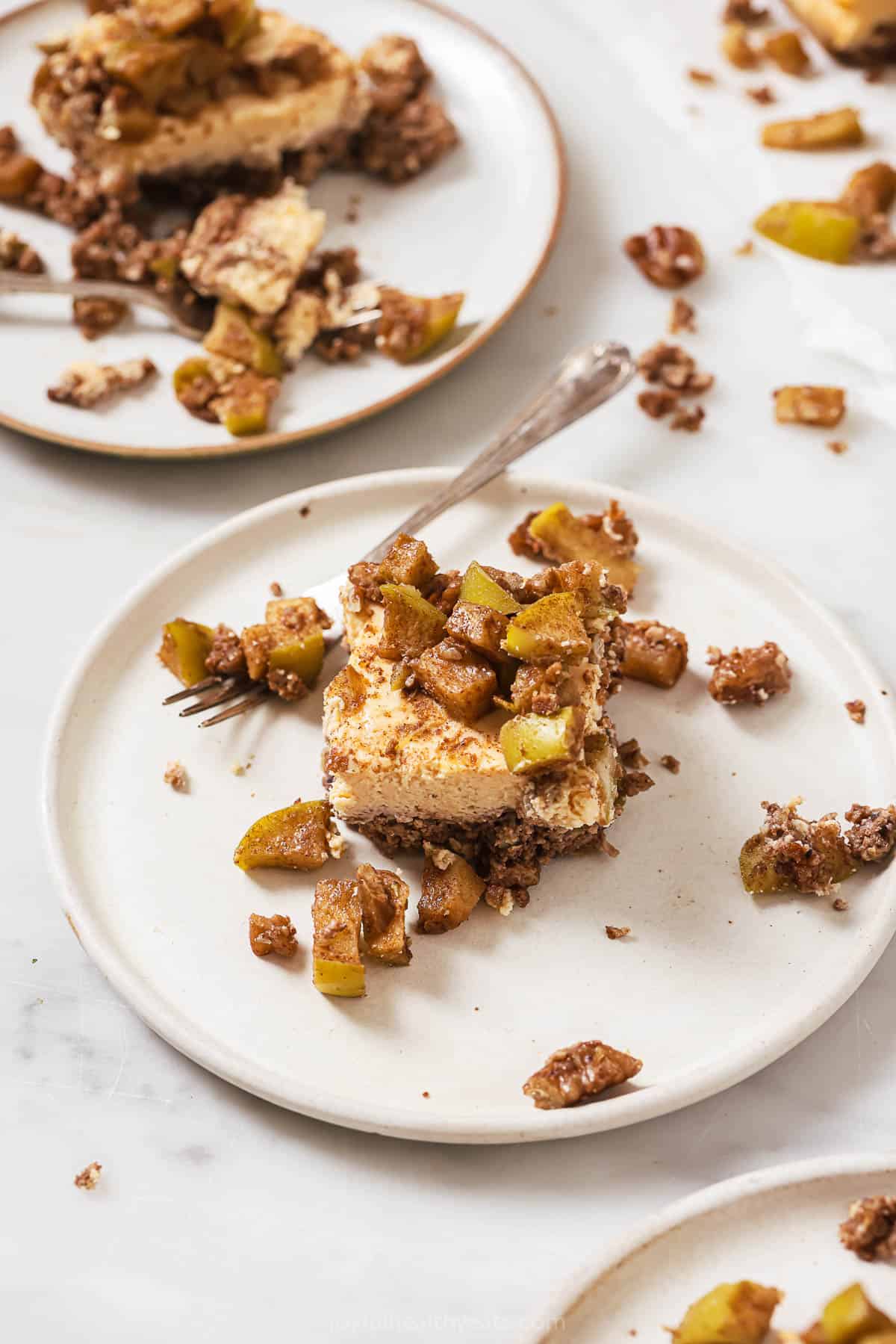 Easy Apple Cheesecake Bars
Imagine a buttery pecan crust with a silky cheesecake layer and a warmly spiced apple topping. Well, that's exactly what these bite-sized apple cheesecake bars are all about! Packed with smokey maple syrup and honey for natural sweetness, every bite just keeps getting better and better. The cream cheese, Greek yogurt, and lemon juice add plenty of tang too. Topped off with a pecan-loaded tart apple mixture, these creamy bars are a golden ticket to fall-flavors.
Why You'll Love These Apple Crisp Cheesecake bars
This dessert is a cross between apple pie and cheesecake, so get ready for it to become a holiday favorite.
Homemade. Have as many as you want. No one's counting! Besides, homemade means you can have more servings without worrying about loads of hidden sugar and salt.
Creamy. The filling is made with cream cheese and Greek yogurt for double the creamy goodness.
Perfect for fall. Apples and cinnamon are the definition of autumn flavors. They'll be a hit at all your gatherings.
Freezer-friendly. Pop as many slices as you want out of the freezer whenever you feel like it for an instant dessert.
What You'll Need
Apples, pecans, honey, cinnamon, and cream cheese are the most important ingredients on this list. Check the recipe card at the bottom of the post for exact amounts.
To Make the Crust
Pecans – Swap it for walnuts, peanuts, or almonds.
Unsalted butter – Feel free to use salted butter but skip the salt in the rest of the recipe.
Raw honey – Maple syrup and agave nectar work too.
Cinnamon – You need to use ground cinnamon for this.
Salt – Kosher salt is best.
For the Filling
Cream cheese – Use full-fat or low-fat cream cheese.
Plain Greek yogurt – If you use sweetened yogurt, reduce the amount of maple syrup to taste.
Eggs – Don't skip these because they're what make the filling set.
Maple syrup – Raw honey, agave nectar, and even light brown sugar are great.
Vanilla extract – It helps round out the flavors.
Lemon juice – You can use half the amount of lime juice.
To Make the Topping
Granny Smith apples – These are super tart and balance out the sweetness, but Pink Lady and Golden Delicious are fine too.
Unsalted butter – Feel free to use salted butter.
Cinnamon – Please use ground cinnamon.
Nutmeg – It can be left out if you'd like, but it adds a subtle earthiness.
Maple syrup – Raw honey or agave syrup are good swaps.
Pecans – They add crunch and nuttiness.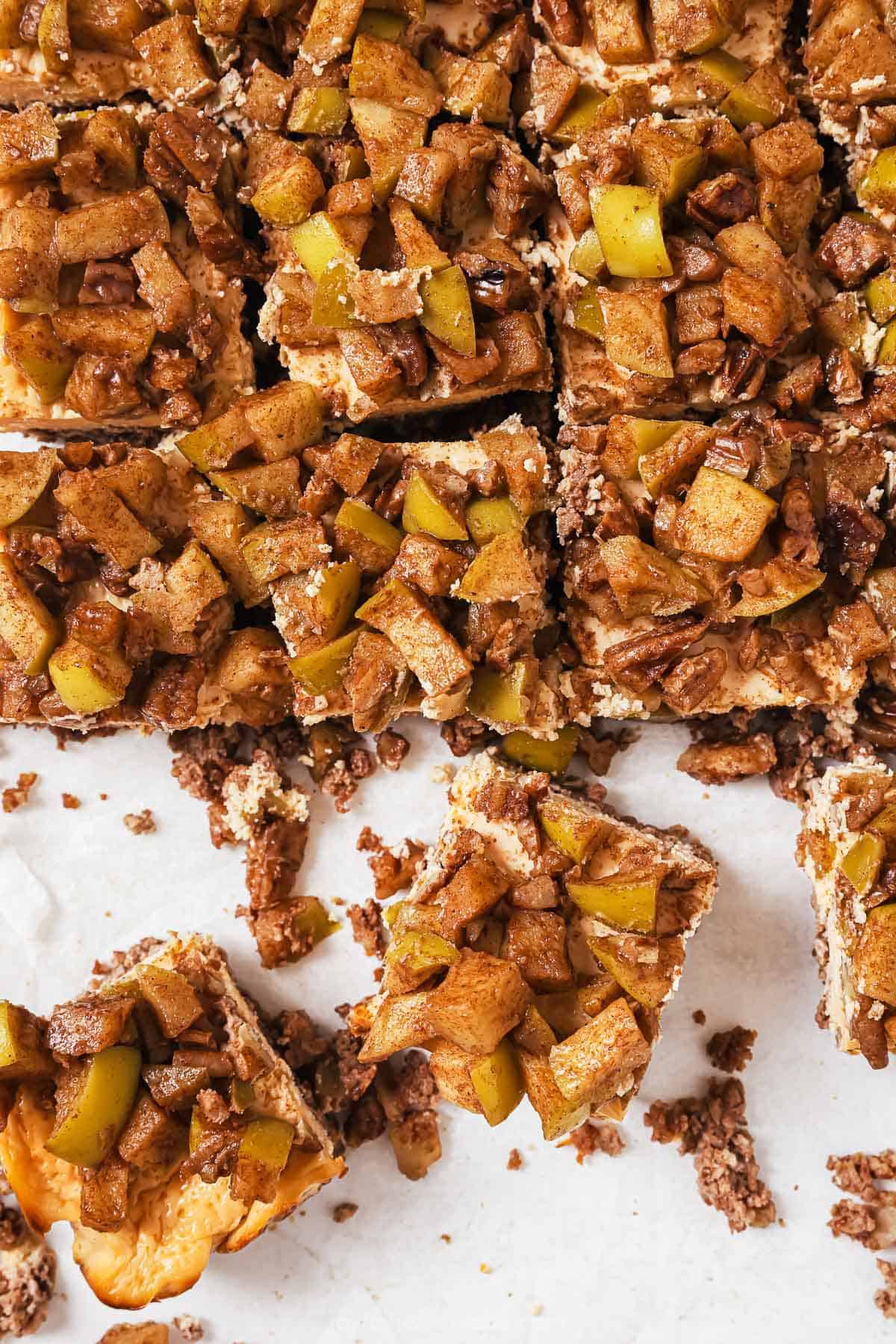 How to Make Apple Crisp Cheesecake Bars
The effortless blended pecan crust is my favorite part of this recipe. Check the recipe card at the bottom of the post for more detailed instructions.
Prepare the baking dish. Preheat your oven to 325F. Line an 8×8″ baking dish with parchment paper, leaving an overhang around the sides for easy removal.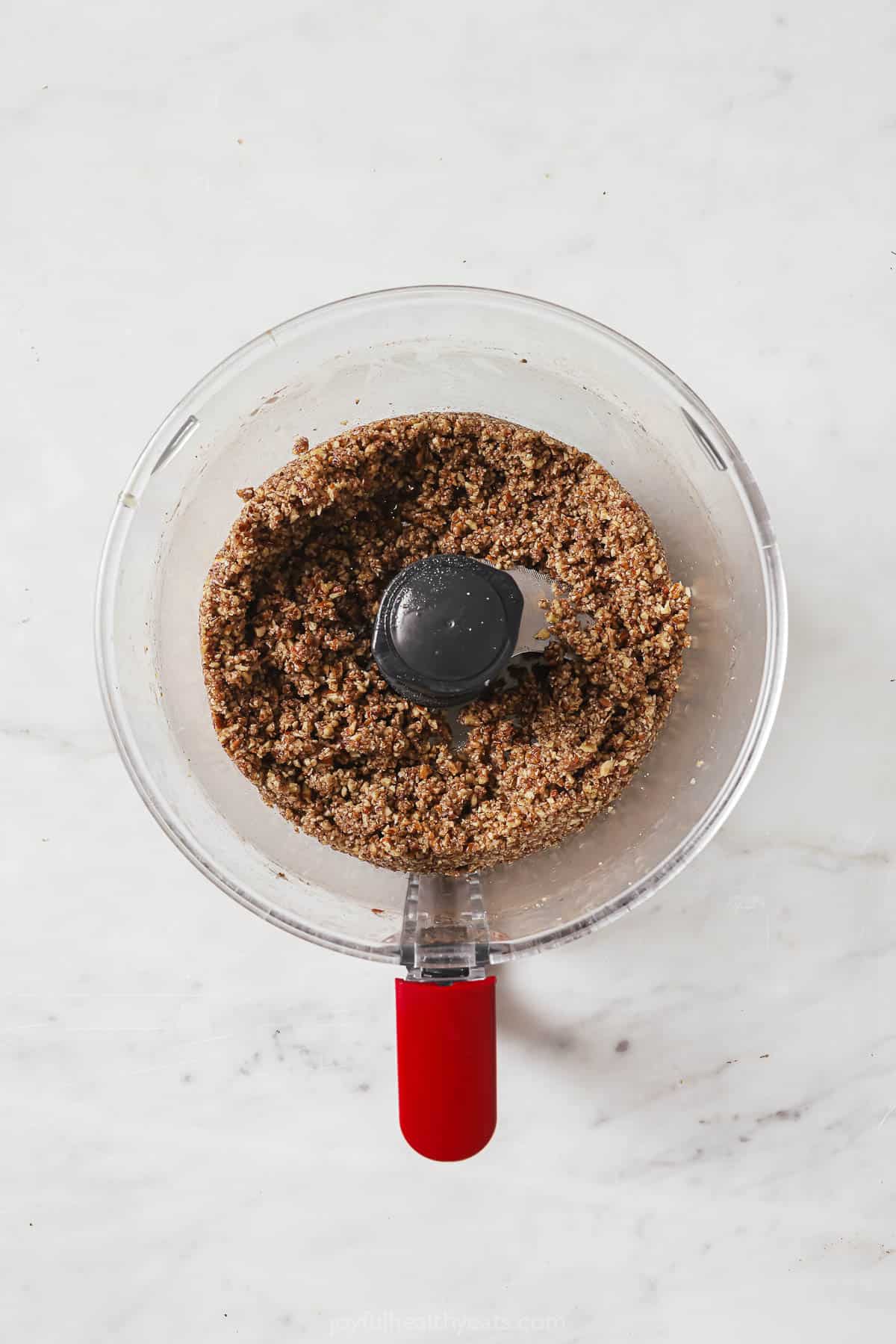 Make the crust. Add the crust ingredients to the food processor. Pulse them until you get a fine, sandy mixture. You can also use a blender for this.
Press it. Transfer the pecan mixture to the prepared baking dish and press it down evenly to create the crust. Don't go up the sides.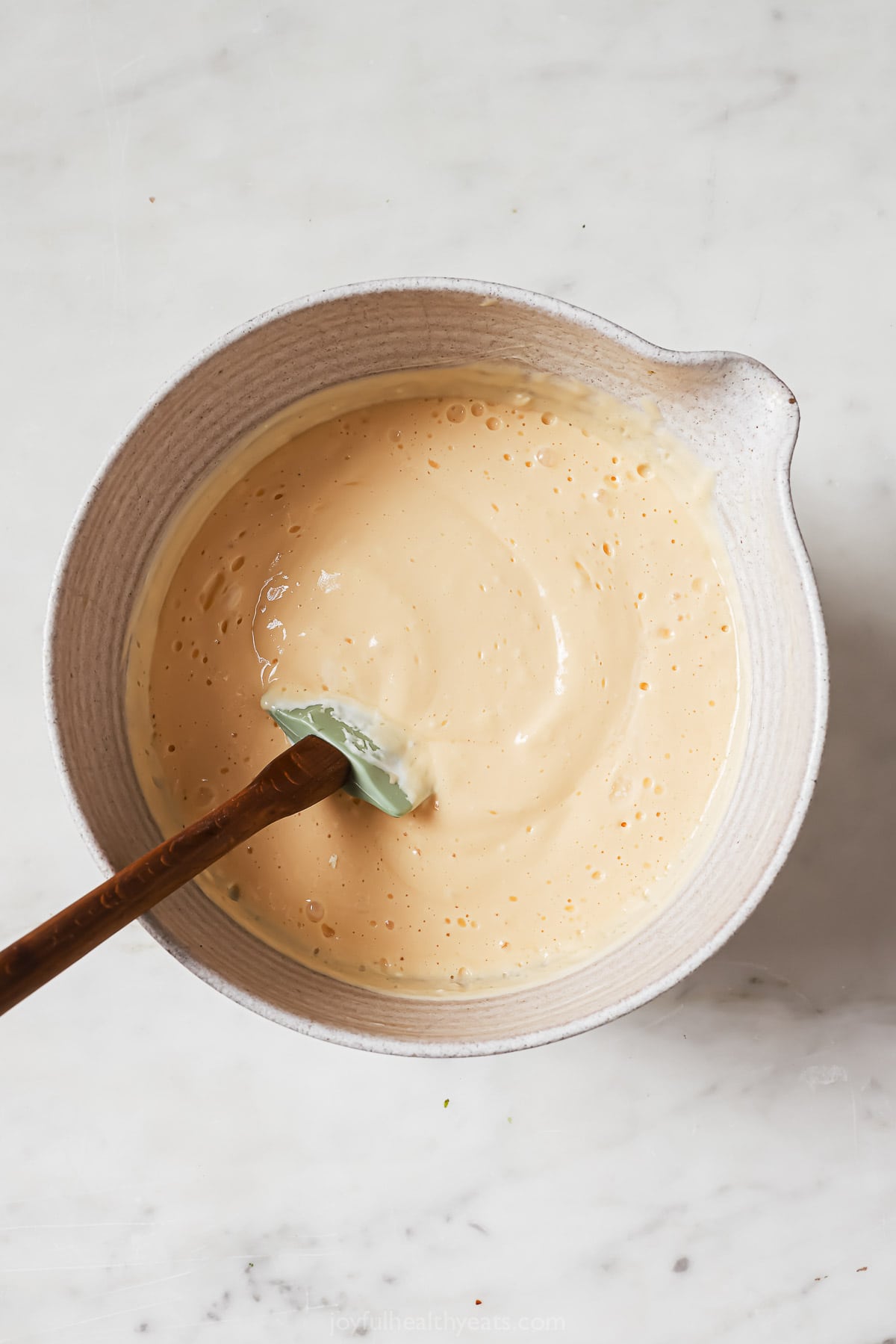 Make the filling. Beat the filling ingredients in a large bowl until you get a smooth mixture. It shouldn't have lumps in it.
Bake it. Pour the cheesecake mixture over the pecan crust and use a spatula to spread it evenly. Bake it for 50-60 minutes, or until the cheesecake is set with a slightly jiggly center.
Cool it. Remove it from the oven and set it aside to cool completely.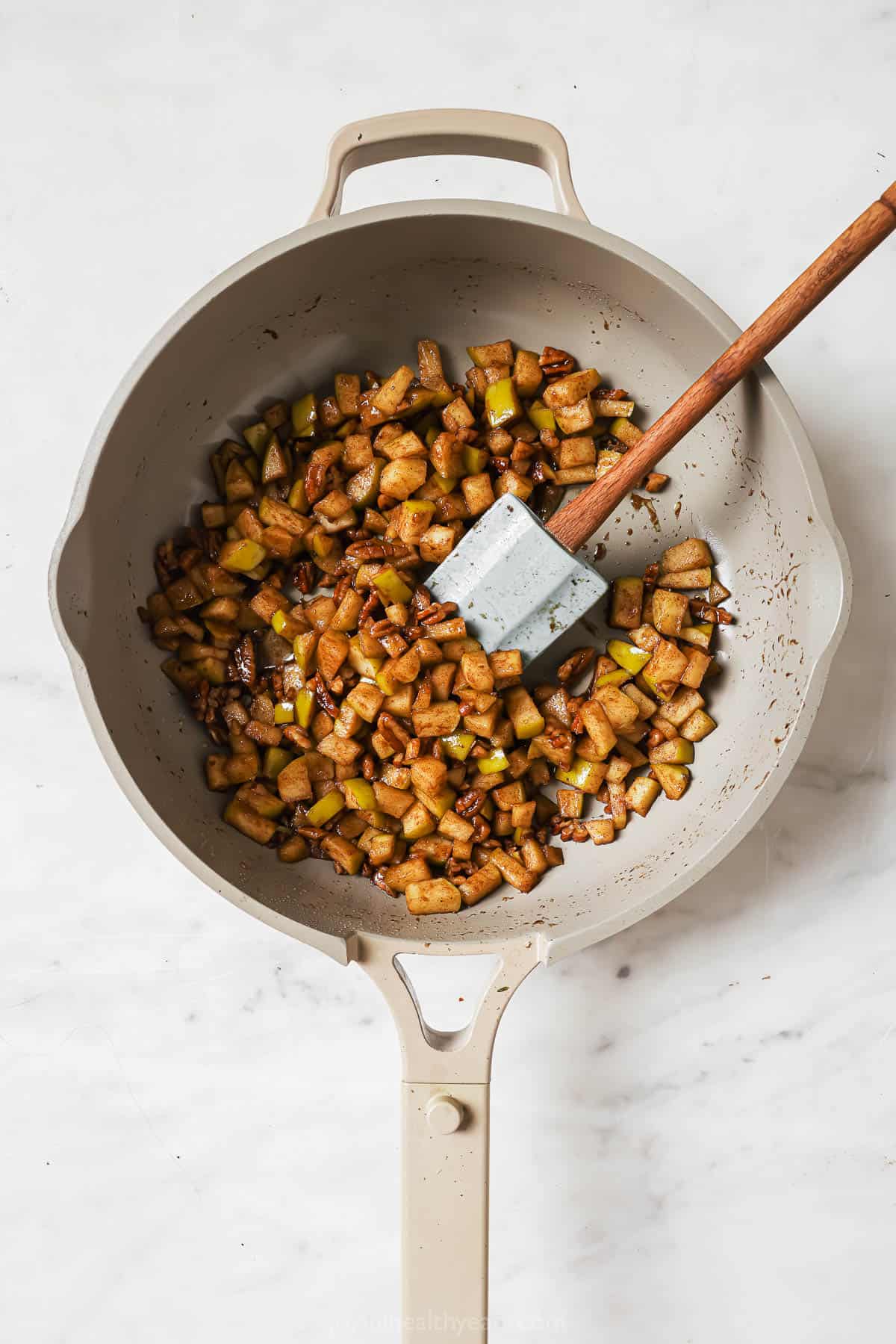 Prepare the topping. Melt the butter in a medium pan or pot over medium-high heat. Add the apples and cook them until softened. Add the cinnamon, nutmeg, maple syrup, and pecans. Stir for another 3 minutes. Remove it from the heat and let the mixture cool. Pop it into the freezer if you're in a hurry to speed up the process.
Spread it. Evenly spread the apple mixture over the cooled cheesecake bars. It's important the topping is fully cooled or the cheesecake underneath might soften and melt.
Chill and serve. Place the cheesecake bars in the fridge for at least 1 hour to let them set. Slice, serve, and enjoy.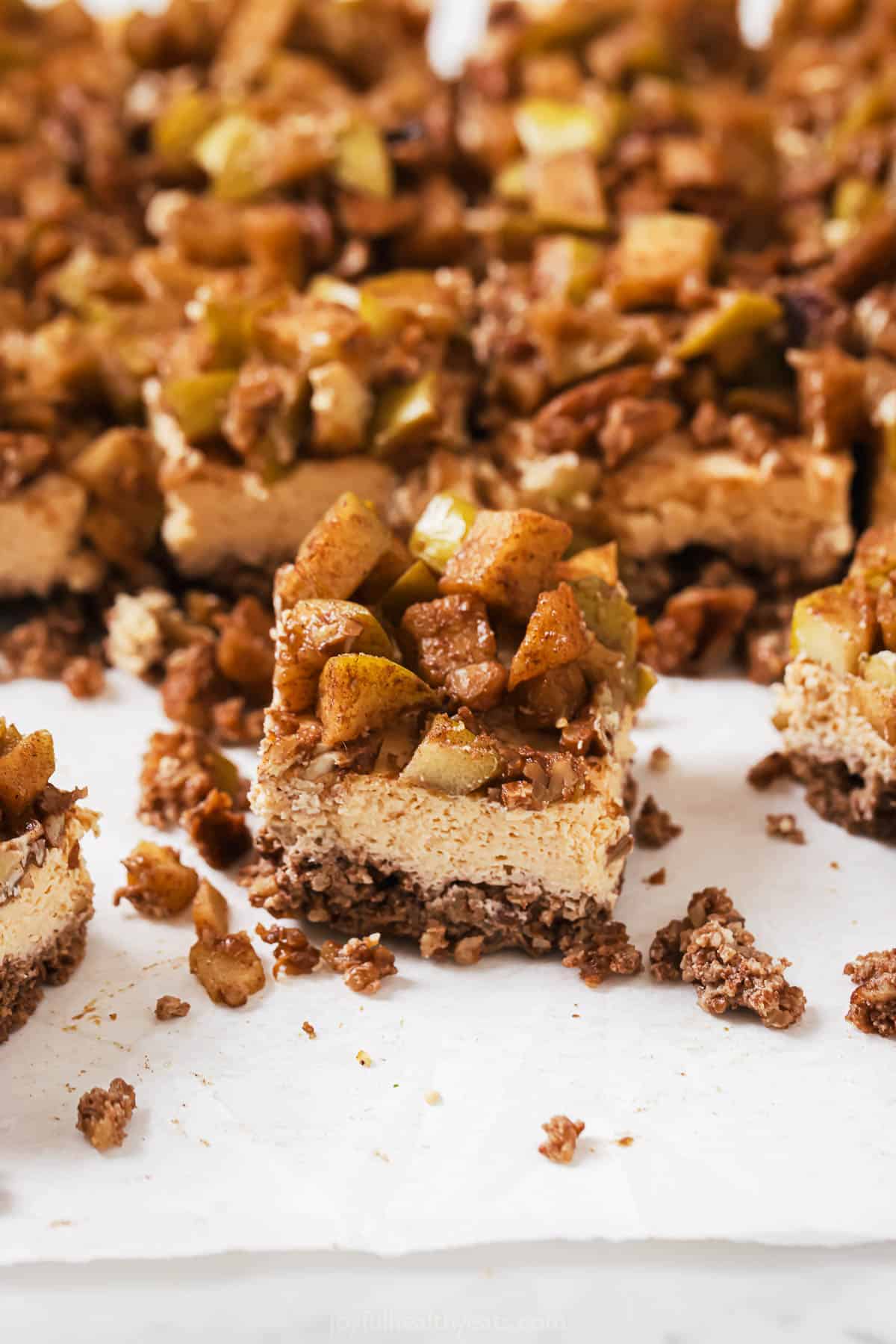 Tips for Success
Cheesecakes without cracks are the definition of perfection, but don't worry if yours has one or two cracks because the apple crisp topping will cover up any minor details.
Prevent cracks. To avoid cracks in your cheesecake layer, don't over-mix the batter and avoid over-baking. The edges should be set, but the center can have a slight jiggle.
Add more toppings. Stir 1/4 cup of toasted shredded coconut or mini chocolate chips into the topping mixture for more flavor. You can also add a drizzle of salted caramel sauce on top.
Room temperature ingredients. Ensure that your cream cheese, eggs, and butter are at room temperature. This makes for smoother mixing and a creamier cheesecake layer.
Prep ahead. Spread the crust in the baking dish and bake the cheesecake layer in advance so all you have to do is add the topping mixture an hour before serving.
Add crunch. Mix 1 cup of granola or chopped mini pretzels into the filling for a crunchy surprise.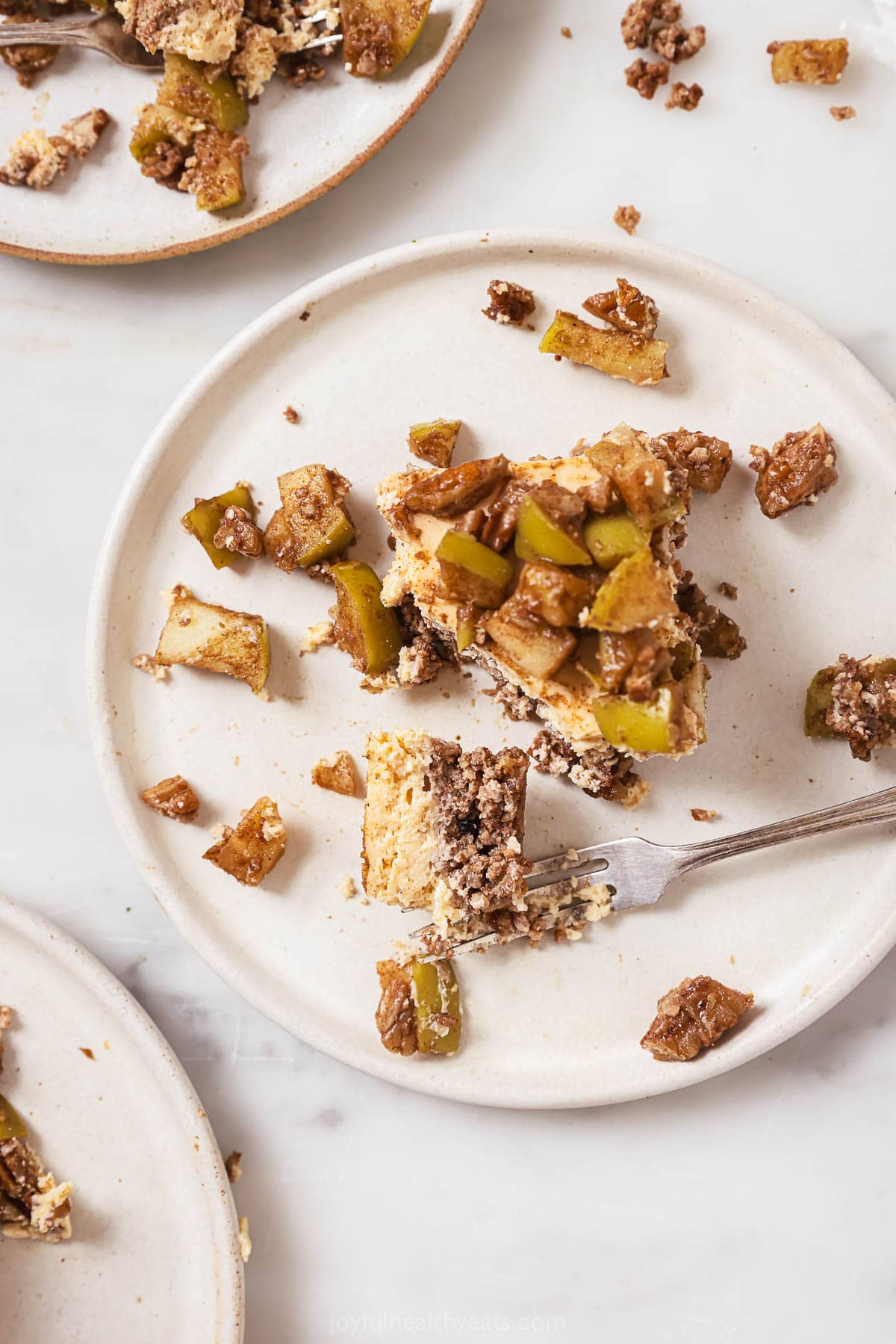 Serving Suggestions
These apple cheesecake bars are an amazing afternoon treat. Enjoy them with a glass of milk, a cup of tea, or your favorite coffee. I'm a coffee-lover, so my Sweet Cream Iced Coffee and Iced Chai Tea Latte are some of my favorites. If you're in the mood for a holiday cocktail with these bars, try them with my Spiked Hot Apple Cider or Cranberry Mulled Apple Cider.
Proper Storage
Refrigerate any leftovers in an airtight container for up to 5 days. Keep them away from strong-smelling foods like onions to avoid the transfer of odors. Serve them straight out of the fridge or set them on the counter for 5-10 minutes before enjoying them.
Can I Freeze These Apple Cheesecake Bars?
Absolutely! Once sliced, place the slices on a baking sheet. Freeze them for 1-2 hours. Wrap each slice in plastic wrap twice and then transfer them to a freezer-friendly bag or container. Freeze for up to 3 months. Thaw them in the fridge overnight or set them on the counter for 15-20 minutes until fully thawed.
More Apple Desserts
---
Description
These creamy, baked apple cheesecake bars with a flourless pecan crust are the perfect fall treat with hints of cinnamon and maple syrup.
---
For the Pecan Crust:
For the Cheesecake Filling:
For the Apple Crisp Topping:
---
Bake at 325° F.
Prepare an 8×8 baking dish by placing parchment paper on the bottom and up the sides for easy removal. Or thinly spread coconut oil along the sides and bottom.
To a food processor, add pecans, butter, honey, 1 teaspoon of cinnamon and a pinch of salt. Blend or pulse until the mixture is finely chopped. (It should be like crumbs but when you pick it up, it will stick together.)
Evenly press pecan mixture on the bottom of prepared baking sheet.
In a medium bowl, add cream cheese, Greek yogurt, eggs, 1/2 cup maple syrup, vanilla extract and lemon juice. Using a hand mixer, mix until everything is smooth, creamy and there are no lumps. Pour the mixture over the pecan crust. Evenly spread using a spatula.
Place 8×8 baking dish in oven and bake for 50-60  minutes or until cheesecake has set. (the center will be a little jiggly)
Remove from oven and let sit.
In the meantime, heat a medium skillet to medium-high heat. Add butter and Granny Smith apples. Sauté until the apples are tender, about 5 minutes. Next add the 1 teaspoon of cinnamon, nutmeg, 2 tablespoons of maple syrup, and 1/4 cup of chopped pecans. Cook for about 3 minutes, stirring the entire time. Remove from heat and let apple mixture cool. (I put it in the freezer to speed up the process)
Once apples are cooled pour on top of the cooled cheesecake bars.
Now place the finished cheesecake bars in the refrigerator for 1 hour to let settle.
Serve!
---
---
Nutrition
Serving Size:

1 bar

Calories:

182

Sugar:

13 g

Sodium:

71 mg

Fat:

13 g

Saturated Fat:

4 g

Carbohydrates:

16 g

Fiber:

2 g

Protein:

3 g

Cholesterol:

32 mg
Keywords: apple cheesecake bars, apple crisp cheesecake bars